---
Facilitator Training
What do you get if you combine a group of caring individuals, a proven curriculum, two-days, some miscellaneous teambuilding props and a book or two?
You get to see lives changed!
To help groups that are using The Trek to reach out to their community, we are pleased to offer on-site training programs. The goal of these trainings is to provide your Facilitators with more information about:
How The Trek was developed.
How The Trek works.
How to adapt the program to different participants.
How to facilitate.
How to handle tough situations.
How to incorporate "The Bridge" program, if desired.
Legal requirements for reporting in youth programs.
Resources for both participants and Facilitators.
Where to find help if there is a problem.
Training programs can be done either at your site or at one of our partner-camps. If you can provide the meeting room, we'll provide the Trainers and resource materials. Our Facilitator Training programs are structured as follows:
---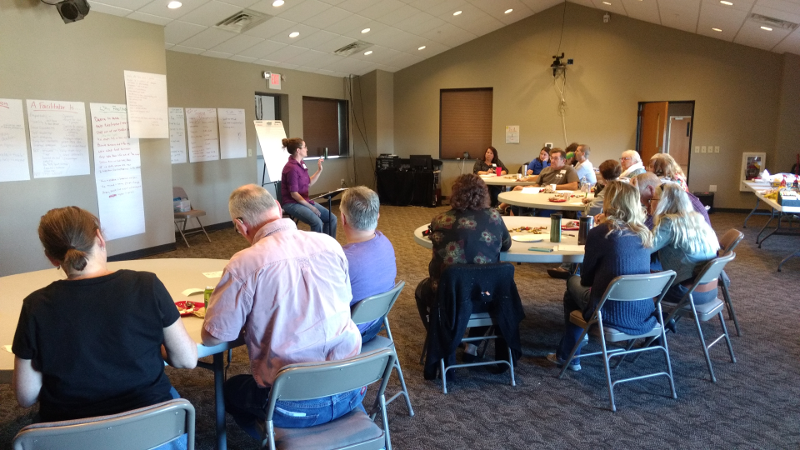 ---
Two-Day Program
($100.00 per Participant + Travel)
Pre-Training
All future Facilitators are provided with access to select videos in advance which will provide the foundation for their program. Participants are expected to watch the videos and complete the accompanying workbooks prior to the start of the training program. We will unlock these up to two months prior to the event, so there is ample time to finish.
Day One (4+ Hours)
The first day is spent in orientation. Our focus is on getting to know the people, helping them to connect with others who they may have just met and taking steps to ensure the emotional safety of the group. After that, we begin to process the pre-training videos and workbooks, asking for honest responses and feedback. This helps Facilitators to understand what a program participant feels when they become part of a small group.
Day Two (8+ Hours + lunch)
The second day is spent in what we like to call "nuts and bolts". This is a detailed explanation of how the program functions, what to expect and how to deal with specific situations. Parts of the class are presented in a lecture format, others are in round-table discussions, while still others are small-group interactions. (Please Note: This can include a discussion of how to utilize "The Bridge" materials, if desired.)
One-Day Program
($75.00 per Participant + Travel)
Participants who have successfully completed the full, 26-week Trek - Standard Edition or Facilitators who want a "refresher" can attend a One-Day Facilitator Training. This training covers the materials in "Day Two" of the Two-Day Training Program and provides additional space for asking questions, dealing with specific issues, and providing support for those who already know the material.
Upon successful completion, training participants will receive a copy of the Facilitator Manual with instruction on how to use it to teach Trek classes. They will also be given information on how to access The Trek Facilitator page on Facebook and how to ask questions directly of Barry and Maria Rudesill, the creators of The Trek.
Please contact us to schedule a training for your organization.
Disclaimer
Training of Facilitators is done on a pass/fail basis. If a Facilitator attends all training sessions, remains involved in the conversations and exhibits a willingness to learn through the process, they will be provided with a certificate of completion. Please note that this training is not an endorsement from The Trek, does not represent a recognition of their Facilitation skills and is not an agreement to hire the Facilitator to work with Trek Productions, LLC.
Please note that only Trek Productions, LLC is authorized to provide Facilitator Training programs using our curriculum and manuals. All materials are protected by copyright. We thank you for your understanding.