---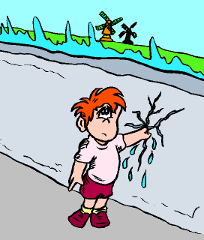 May 2, 2017
What I Can't Control
By Barry Rudesill
I have a good friend who is going through some tough times with her family. She has been to court and there are more court dates, hearings and other events stretching out before her.
As I listen to her describe the legal maneuverings, the attempts to delay the process and the flippant comments from lawyers who are treating someone's emotions and suffering as unimportant and irrelevant, it's been easy to feel my anger growing!
Why wouldn't I? This is my friend and her family that are suffering! There are children who are at-risk! They've suffered a lot and all the delays only make it longer until they get closure! There are a lot of reasons for me to have anger!
As a descendant from a long line of farmers, I have it woven into my DNA that people should not be "stupid"! I look at the situation and I KNOW that if I could just sit down with the judge, the lawyers, the offender and anyone else, I could sort it out in next to no time! Why? Because...
Let's be honest, here. I don't know exactly how our judicial system works. I really don't understand how charges are brought, processed or dropped. I don't understand the pressures that our legal representatives face. I don't know what it's like to be a judge, DA or even a defendant. I know next-to-nothing about any of it. I just see a friend who is hurting and I am reacting to my concern for her.
In reality, if I had my way, my actions wouldn't bring justice or healing; the defense wouldn't be fair; and I know that I wouldn't want that situation if I ever found myself in court.
As I listen to her describe the legal maneuverings, the attempts to delay the
So what do we do in a case like this where someone we love is hurting? We be there for those who are in need. We serve them. We get them help, if they want it. We encourage them and let them know that they are loved, wanted and important.
And, most important, we realize that the circumstances they are facing are NOT ours to control. Instead of focusing on what is causing their pain - the things that are beyond our ability to control - we spend our time focusing on the person who is struggling.
Just like I plan on doing with my friend...