---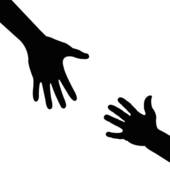 April 6, 2017
Help..?
By Barry Rudesill
Recently, we've been working a lot on the subject of asking for help. My question is, "Why don't people ask for help?"
As a guy, it almost seems a question of genetics, there is something in our DNA that prevents us from stopping and asking for directions. (To be honest, it's not the "asking directions" part that's tough; it's the "I'm lost and have NO clue where I am" part!)
It's like we believe that people will judge us because we have, on some level, "failed". We look in their eyes and "see" them thinking, "Wow! He is totally screwed up! He can't follow simple directions!"
It's not others who are judging us, though; we do that to ourselves... Our Self-Talk can keep us so locked up inside our own heads that we don't even seek help until it's too late!
I just want you to know that if you ARE struggling, you are NOT alone! That may or may not be comforting, but it does tell you that you're "normal". It also means that there are plenty of people who will understand you if you do ask for help along the way.
As you're trekking along, don't be afraid to talk with those on the same path. You may be able to help each other out along the way and you may be relieved to find that you're not the only one who is struggling in a particular area.
We hope you enjoy your journey!