---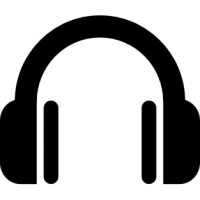 August 18, 2017
Music And Message
By Barry Rudesill
This summer, I was talking with a man who asked me an odd question. It wasn't the question, itself, that was odd; it was just that I had never really stopped to think about it. His question was, "What music do I recommend to people who are looking for music with a good message?"
Now you need to know one thing about me: I LOVE music! Working with teens for over 20 years, I've learned to listen to – listen to, not necessarily enjoy – a wide range of music. :) Because of that, my phone has almost 10,000 songs ranging from classical to modern rock, bluegrass to death metal. When I sit down to write, I usually have headphones on and a soundtrack playing in the background to help me focus.
To answer his question, this month, I wanted to share with you my "Top 10" list of songs with a good message.
Disclaimer: Please be warned that I didn't give any thought to "secular" or "Christian", nor what genre they came from. I also didn't sit down and listen to the rest of the songs on the album, so this isn't an endorsement for the artist. This is just what I would encourage my teens – and all of the other Trekkers our there – to put on their digital devices. Finally, these are in no particular order. (They're in alphabetical order by artist, for those who really want to know.)
1GN – Guard Your Heart
Recently, a friend of mine who has been going through some tough times was told that she needed to find a "new man" in her life. Needless to say, I disagree with that. I'm not saying that relationships are bad – I think a good relationship can heal more than we can ever know. But, there's a difference between a "relationship" and a "good relationship". She needs someone who will build her up and help her become better, not just some guy with a heartbeat. That's why I think this Christian band has a great message for teens...and adults: https://www.youtube.com/watch?v=tyKrZ_My2xI
Disturbed – The Light
I worked with some absolutely amazing volunteers over the past three years. One of them was a young man who had come from a tough past and, because of that, he could relate to the at-risk teens we were working with. So, when Dustin - "Hi Dustin!" - said I needed to check out this song, I went home that night and found it. This is easily the "heaviest" song on the "Top 10", but the video and the lyrics are great! Even if it's not your style of music, it really has a good message. Check out the link to the "official" video: https://www.youtube.com/watch?v=_LypjOTTH6E
K'Naan – Is Anybody Out There
I was speaking to a man who has spent his career serving teens around the country, as well as working in prisons. He told me to go listen to this song...and I'm glad I did. The video has some "inappropriate" stuff in it – it's dealing with some tough issues – but I really do think it's worth watching to understand where a lot of teens are coming from. Here's the "official" version: https://www.youtube.com/watch?v=nevOsRGqL2c
KISS – Reason To Live
The reason this makes my "Top 10" is because I know of a life it saved. Almost 30 years ago, a friend of mine was struggling with who he was after he broke up with "the girl of his dreams". He was considering suicide when this song came on the radio. He found his reason to live. The "official" version has some risque stuff in it, so this is a link to a "safer" version of the song: https://www.youtube.com/watch?v=vi6mHilbnz0
Nickelback – Lullaby
In recent years, I've had the privilege of speaking to some very hurting teens. (I'm just grateful they WILL talk! It takes a lot of courage!) This song is one that I recommend to them, because it's a song about pushing forward, even when it's tough and even when it all seems hopeless. For this song, listen to them sing the lyrics FIRST and then go back and watch their video. (The song is powerful, and the video is powerful in a different way!) You can check out the "official" video here: https://www.youtube.com/watch?v=4OjiOn5s8s8
P!nk - Perfect (Clean Version)
What can I say? We liked the lyrics so much that we included it in The Trek – Self-Talk. If you're easily offended, don't watch the "Official" version of this song, although it is a powerful example of the struggles of teens. A safer alternative is here: https://www.youtube.com/watch?v=12L8Tus290I
Rapture Ruckus – In Crowd
I got to see Rapture Ruckus perform live recently. If I could have my teens bouncing around to any song that's out there, this is it! Whether you are a Christian or not, the message is good, the video is clean – and has lion mascots, nerds and goths, oh my!- and the beat is fun! It's time to reject the "in crowd"! https://www.youtube.com/watch?v=ZWXYW9kq8ns
Ryan Shupe – Dream Big
Okay, this song brings back memories for me. At a YMCA Camp I worked at, we used this for a summer theme. One of the things that I've seen over the years is that too often, in the midst of our struggles, we lose sight of our dreams. Find something in your life and, no matter what anyone says, dream big: https://www.youtube.com/watch?v=3KwEuNapzt0
Shakira – Try Everything
If you've never seen "Zootopia", you missed a great movie! It's about chasing your dreams, making mistakes and making it right. It also features a cute, fluffy bunny, a necktie-wearing fox and a sloth who works for the DMV. The main song, "Try Everything" has a fantastic message! Check out the "official" video: https://www.youtube.com/watch?v=c6rP-YP4c5I
We couldn't leave the list with just The Trek. So, to be fair, we asked the authors of the new Bridge 2.0 for their "Top Song". Without hesitation, they said:
Lacey Sturm – The Reason
If we run after anything other than God, our lives will be empty. No matter what we put in that God-shaped hole in our lives, it will never fit. Only God belongs there and, if we don't try to fit God in, we are going to fail. Check this out: https://www.youtube.com/watch?v=ETfq5k06pyM Whether you believe in God or not, when you're done with "The Reason", go check out Lacey's story at https://myhopewithbillygraham.org/program/defining-moments/
Happy listening, and we hope you enjoy your journey!