---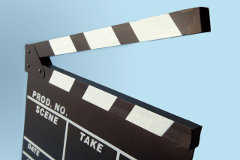 October 25, 2012
"Perfection"
By Barry Rudesill
When we first sat down to develop The Trek, the videos and the website that would carry it all, we had grand, glowing ideas in our head. It would be simple, we said to ourselves. Just a tweak there, a phrase here and we would have... perfection!
It took us nearly a year to develop the scripts for the presentations. Every time we thought we had them done, someone else on our team would sit down and proofread them and find even more changes that needed to be made.
When we finally finished filming our first Trek series, the material looked very different from what we had originally proposed; but because we invested the time we needed, the scripts became so much better than where we had started from!
That, of course, brings us to the filming of the videos, themselves. When we sat down and sketched out the concepts, originally we talked about filming them outdoors to fit with the "nature" theme we had been developing. We were ready to do that, until we brought JD on board and he pointed out the many flaws in that idea! JD helped us film the first videos and then edited them into "test videos" which we showed to many people. The feedback from friends was very…critical. I don't mean that they were unkind; they knew we wanted to put together the best material we could within the budget that we had and so they were honest.
Their words, however, led to a whole new set design, new camera angles – JD had to build new tripods to hold the cameras! – and a whole new approach. When we had completed the new trial video, "Self-Talk", we received positive feedback which enabled us to move forward to create the rest of the series. Because of the input from family and friends that we could trust, we were able to create a better program than we ever could have on our own!
At this point, we had scripts and videos ready to go! All that was left to accomplish was the website, which would be easy, right? After all, most of our staff had done website design at some time in the past. If we pooled our talents, we could surely create a good enough website! Well, not exactly... On our first design, the background was too dark, the navigation was not good enough, the information was not detailed enough and we hadn't left enough room for the videos to be watched. So, we scrapped it and went for "Round Two". Our second website survived a whopping two months online before it came down!
In the end we were forced to seek some professional help (Hi Eoin!) who was able to do the work in the areas we could not. We had pushed our abilities as far as we could which, admittedly, was not very far. When we couldn't reach the level we desired on our own, we reached out to someone who could help us take the next step; and Eoin has worked wonders on our behalf!
The funny thing is that despite all of the work that we've done, there is still more to come. We haven't reached "perfection" and we have realized that we never will.
We are still continuing our research and will revise our curriculum if we find better sources; we are hoping to revise the videos so that they are a "standard" length to fit into classes; and we are looking at having Eoin do some major upgrades to the website to make it even more helpful to those who visit it. We've found that no matter how hard we work, there is still always something that could be improved. Instead of being depressing, we look at it as a new challenge; the goal of which is to make The Trek move one step closer to what we envisioned it to be.
Finally, we have found new areas of interest for the program. We have been asked to create an 18-week Student Edition for schools; another 26-week Veterans Edition to work specifically with the men and women of our armed services; and more. Every time we complete another part of our journey, a new area opens up!
So, how can this apply to you?
Like us, begin your journey by doing the work that you can do yourself and be willing to make the changes that are necessary to become the best "you" you can be.
Next, find people that you can trust who are willing to give you honest feedback. You need to realize that sometimes their words may hurt, but if it can help you make long-term, significant change in your life, dealing with some short-term pain is worth it.
As you go through the process, realize that there may be issues that you are confronting that will require you to seek professional assistance. It is not a sign of weakness to ask for help; it is weakness to refuse to ask for help when you know you do need it!
Don't become discouraged if it seems like there is a lot of work ahead of you; look at it is an opportunity to continue improving.
Be aware that completing a program like The Trek is not the end. You will still need to practice your skills, find new areas to improve and then use what you have learned to change the lives of the people around you.
Perfection is simply an illusion. Being perfected is a personal journey and you are worth the effort!
Know that we believe in you. Enjoy your journey!
The Trek is an online personal development curriculum designed for the every-day person. For more information, please visit thetrek.org.