---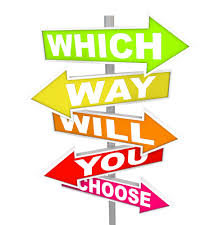 January 16, 2018
It's Your Choice
By Barry Rudesill
Maria and I have been asked to teach a Student Edition class for a special group in the area. (Hi HEART!) What makes this exciting for us is that while the students are meeting in one room, the parents are meeting in another! What an opportunity for families to learn and grow together!
So, to celebrate this, we want to tie our posts to the classes they are going through AND to try to hit some of the questions or comments raised by the participants – both youth and adults!
The first class in the Student Edition is "Choices". The goal of "Choices" is to explain that no matter what challenges we have in front of us, there are always choices. (Some are not obvious, and that's where having people who can give us advice becomes critical!) Not only are there always choices, but we always have the right to choose, too!
Even more than that, in our student group, we talked about the fact that there is no such thing as "bad choices"! (And right now you probably have the same look they did!) Your choices may not lead you to where you want to be, they may end up hurting you or those around you, and we almost never get to choose the consequences for our choices; but that doesn't make them necessarily "bad".
In our world, the only "bad choice" is the one that was wrong and that you didn't LEARN from.
Mistakes give us the opportunity to learn, the opportunity to do better – to choose better – next time. If we don't learn our lesson the first time, we will have the opportunity to learn it again...and again...and again…until we finally get it "right". Don't be afraid to "autopsy" your choices. If a choice led you somewhere you didn't want to go, take it apart, find out where it went wrong, and then choose differently next time. If you see someone else making a choice that is wrong, that simply means that you can choose differently for yourself!
If you have made a choice that hurt others, you now have a whole new series of choices to make. Do you go back to them and apologize? Do you try to find a way to make it right? Do you run away and hide? Do you try to blame others? Take a look at those choices and figure out which one will get you where you want to be and then choose!
Finally, you need to remember that just because you made a wrong choice in the morning, doesn't mean you can't choose differently in the afternoon!
The choice is, quite literally, yours…
We hope you enjoy your journey!