---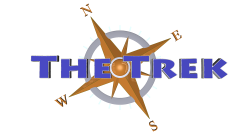 June 4, 2020
Lessons From Filming (Round Two)
By Barry Rudesill
Last time, I started to share with you some of the things that I've learned in the process of filming "The Bridge" for Trek 2.0. Today, I want to continue on with some other things that I've learned. First, of all, though, I have to give you a little backstory.
We began writing Trek 2.0 over three years ago, in response to some new information we had received. Then, when we moved, the project was put on hold while we sorted life out. Last year, we felt that we had done enough to justify production of the new 2.0 curriculum.
In late-July, I believe, we started constructing our sound stage. In August, we were done. In September, we ripped apart and rebuilt portions of our sound stage when we realized that it simply wasn't going to work. By the end of September, our stage was complete.
Then, starting in September, we installed the stage lighting. Working with a Lux Meter – it tells how much light is getting to the stage – we dialed it all in and did some practice takes. In October, we began to evaluate the footage...and ended up installing additional lighting to improve the video quality. By the end of October, the lighting was done.
In October, we started filming the first of The Bridge classes. As I sat down to edit the videos, the computer system decided it couldn't handle it AND the software we used wasn't stable. We ended up buying a new computer, new software, additional storage space, and then had to modify my desk to fit it all on! By the end of October, the video system was done.
In November, we released some "test videos" to our proofreaders to verify that everything looked okay. Based on their feedback, we ended up redoing part of the set, some of the lighting, and also changed the way we processed the videos. By the end of November, the "format" was done.
In December, we were starting to seriously work on filming. When we went to offload a day's worth of work, we discovered that one of our video cameras was failing – the video kept shifting to blue. (I looked like a Smurf, if you know what that is!) In January, we ordered two replacement cameras. By the end of January, our video cameras were working.
And I can go on...and on...and on… I can talk about how one of our lights kept going out during filming and I never saw it because it was behind me! I can talk about how my son "missed" framing me and cut the top of my head off for two videos, so I had to re-film! I could talk about the audio artifacts that started appearing that our audio-tech friend had never seen before! I could talk about the gnats that somehow got in and started trying to fly up my nose!
All-in-all, there were a lot of setbacks, a lot of times that we had to re-film or re-edit!
At one point – I think it was the day we discovered that the cameras were malfunctioning and that all the footage was wasted – that I thought about giving up. I could leave the "old" program up, right? I mean, it WAS working...somewhat… Who cares if I knew that there was something "better" that I could do? It just didn't seem worth all of the effort that I was putting in!
And that's where I see The Trek play out in my life. One of my tendencies is toward Escape: When the going gets tough, I get going...in the opposite direction… I would rather avoid and escape than confront and overcome; even when I know that going forward means I get to become better in the process.
Now, sitting here and waiting for the video-editing computer to finish prepping the second-to-the-last video for "The Bridge", with the knowledge that The Trek 2.0 set is nearly complete, I have to tell you that it feels very, very good!
I could have quit when the going got tough; when the pressure seemed too much and the goal so far away. Now, with the goal closer than ever before, seeing the distance I've come, seeing the obstacles I've overcome, I'm glad I continued on the journey.
I know that the road ahead won't be perfect; that it's not all "smooth-sailing" to the end. I know that there is a lot of work ahead and there are some pretty significant hurdles I have yet to face, but in the end, I know that the trek I'm on is worth it.
If you're facing obstacles in your life, if you are being challenged, if you're thinking about giving up or walking away, just know that we don't grow by setting a goal; it's the journey – the steps we take to meet that goal – that makes us who we are and who we want to become.
We're cheering for you!
We hope you enjoy your journey!